We are one of the best HVAC companies in Denver serving residential home owners. If you're looking for a heating and air conditioning company to be speedy, priced lower than the competition & you live in Denver Colorado or any adjacent city, you're in luck.
Our customers love us, for good reason. Our team of heating and cooling experts is the best and most experienced you'll find in our sunny state of Colorado.  We look forward to talking to you soon!
We operate 7am to 7pm with no overtime charges. We were on time 97% of the time in 2022.
Looking to have your HVAC system checked or replaced? Our Denver HVAC experts are prepared to help! We pride ourselves on exceptional air conditioning and heating services near you. Our HVAC experts will provide all possible options and pricing.
We fix & repair HVAC units but the truth behind us is that we are here to serve our customers. We pride ourselves on being straight-forward and honest; If we can help you with your project, it'll be the best help you can find in Denver.
Our heating and air conditioning company is exactly what you're looking for when your HVAC system is in need of repair or replacement. We aim to save you money and keep everyone as comfortable as can be.
We pride ourselves on being knowledgeable and quick. Our heating and air conditioning experts are highly skilled and focused on providing you with an easy and pain-free process where you pay for what you need and don't get confused by convoluted sales pitches and unnecessary fees.
We provide the following services throughout the greater Denver Metro area
We provide the following air conditioning services to residential customers:
We specialize in the following heat pump installation and heating conversion services in the Denver area:
We install MiniSplit or Ductless systems for our homeowners with 12-year warranties:
Looking for water heaters or electronic air cleaners? We provide these following services as well: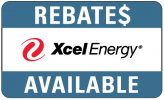 We're a certified Xcel Energy HVAC Trade Partner & offer all rebates available. The paperwork is on us, too.

We're proud to participate in Denver's Heatpump Rebate Program. Electrical service upgrades too.

Why not let uncle Sam help you pay for a new shiny HVAC system? New incentives launching in 2023.
Repairs
Replacements
Installations
Maintenance
Repairs
We charge $75 to visit the property and diagnose HVAC issues (Diagnostic Fee).
This fee is waived if we complete the repair or service for you.
We typically schedule the appointment the same or next day.
For fastest service, give us a call at (303) 997-0097
Replacements
Installations
Maintenance